DISPUTE RESOLUTION
Peer-to-Peer, Ombudsman, Mediation, Arbitration, and Ethics Complaints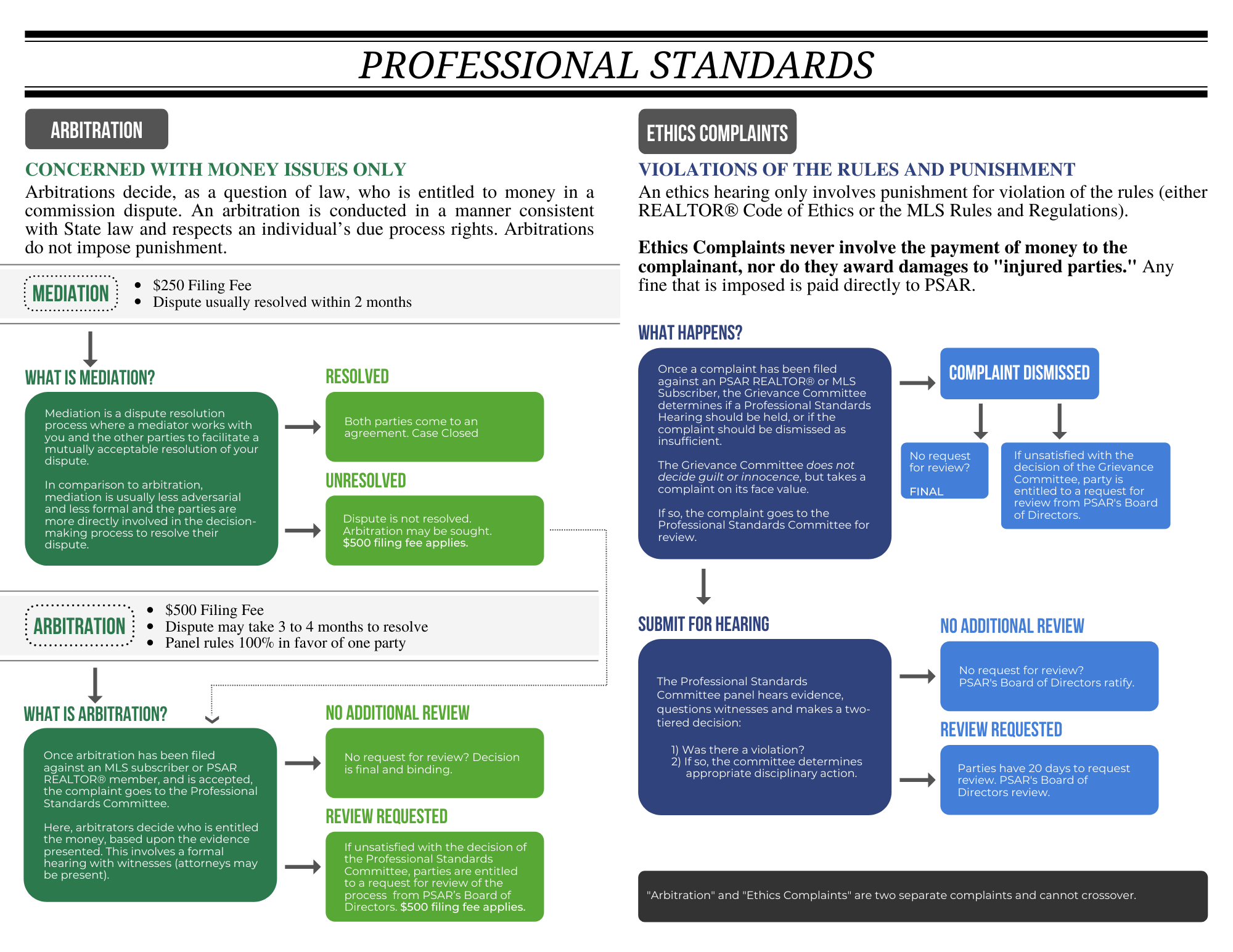 All REALTOR® members of the Pacific Southwest Association of REALTORS® hold themselves to a higher standard of professional conduct.
The Professional Standards program helps our members be better REALTORS®. PSAR's Professional Standards program provides current, up-to-date information about the National Association of Realtors Code of Ethics, to which all Realtor members are bound. PSAR also settles disputes between Realtors and between Realtors and their clients through mediation and arbitration.
PSAR adheres to the policies and procedures outlined in the California Code of Ethics and Arbitration Manual provided by the California Association of Realtors. The Manual is drafted to comply with the National Association of Realtors and California state law.
REALTORS® are different from non-member licensees in that they voluntarily subscribe to a strict Code of Ethics. If you believe that a REALTOR® has violated one or more Articles of the Code of Ethics, you can file an ethics complaint alleging a violation(s) through the local association of REALTORS® where the REALTOR® holds membership. You may search for a member's local Realtor Association affiliation here, or contact PSAR staff at prostands@psar.org or 619-579-0333 and we can help identify the correct association.
PSAR is responsible for enforcing the REALTOR® Code of Ethics. This brochure helps explains dispute resolution procedures followed and what you can expect when an ethics complaint is filed. This brochure also describes alternatives to consider before filing an ethics complaint. Before You File an Ethics Complaint.
Peer-to-Peer Ethics Infoline (REALTOR members):
C.A.R. now offers Realtors a free ethics infoline where they can be assigned a volunteer member who is trained in the Code of Ethics to assist with non-legal questions:
- Whether their own actions might violate the Code of Ethics
- Whether the actions of another Realtor member might violate the Code of Ethics
The Peer-to-Peer Infoline volunteers are NOT attorneys and cannot give legal advice or answer legal questions.
Ombudsman Program (Consumers & REALTOR members):
Available to Consumers or C.A.R. members, occasionally find themselves in a dispute with a REALTOR®. The C.A.R. Ombudsmen can help you understand if a possible violation has occurred and recommend ways to resolve the situation before it becomes a more formal process. The Ombudsmen are volunteers that serve as a neutral and independent voice to answer consumer or REALTOR® questions, improve communication between parties, and suggest possible ways to resolve issues before it becomes a formal dispute. ​
What is it?
The Ombudsman Program is a FREE voluntary way of discovering if a possible ethics or rules violation has occurred with other members of clients. Consumer and REALTOR® Ombudsman Hotline Video
How Does it Work?
Ombudsmen do not advocate for any party or attempt to decide who is at fault. Instead, they will assist all parties in understanding the issues and recommend other options for resolving the situation before beginning a formal process. FIND A PHONE NUMBER OR WEB FORM to request HELP here: Ombudsman Assistance Now.
What happens if the Parties can't agree?
If the parties can't agree to the Ombudsman's recommendation, they can proceed with a Complaint, Mediation, filing a complaint with the California Department of Real Estate, or the court system.
For more background information on Professional Standards from the California Association of REALTORS® follow this link.
For more background information on Professional Standards from the National Association of REALTORS® follow this link.