April 2017
(

Click HERE to visit the City's Calendar)                           



South Bay Earth Day
Bayside Park at the Chula Vista Marina will be the site of the South Bay Earth Day encouraging residents and visitors to Go Green, Go Clean and Go Bike. The event is set for
Saturday, April 8
, from 
11 a.m. to 4 p.m.
 and features activities, products and services to help you reduce your impact on the environment, save money and live green and healthy.
Attendees can take advantage of free events such as bicycle valet, Yoga classes, and Electric Vehicle ride and 
drive. Children will be entertained with Living Coast Discovery Center animals, Recreation's Empower Hour truck, and a bicycle rodeo. While supplies last, there will be a grocery bag exchange - swap grocery store bags for reusable bags (up to four per family) and a free oil change and recycling kit give-away. Shop green vendors, visit art exhibits, purchase organic gourmet food, or enjoy a cold one in the beer garden featuring local breweries. LED light bulbs will be sold at a discount by SDG&E, and other vendors will offer free demonstrations and information on energy and water conservation, healthy living, recycling, and more!
This free family festival is sponsored by the City of Chula Vista, Port of San Diego, Republic Services, 105.7 MAX FM, and SDG&E. Visit the 
webpage
 for more information.

Traffic Concerns
One of the biggest concerns of Chula Vista residents is traffic. From excessive speeding to talking on cell phones and from school zone issues to DUI, many drivers have become very impatient and unsafe. While Chula Vista Police Department (CVPD) does what they can to curb these concerns, there is a limited number of officers on duty and many more vehicle drivers. This is where YOU come in! If we all follow the rules of the road, it will make driving much more pleasant in our great city.
We live in a fast-pace society where we all want things at high speed such as internet, cell phones, and social media. High speed is good except when it comes to driving! Speed limits are posted for the type of roads and traffic in each area. All speed limits are based on ideal driving conditions. According to the 
California DMV
, high speed increases your stopping distance. The faster you go, the less time you have to avoid a hazard or collision. The force of a 60 mph crash is not just twice as great as a 30 mph crash; it's 4 times as great! 
What can you do?
 Obviously the answer is to obey the posted speed limits and not be in a rush; plan accordingly to allow enough time for you to get safely to your destination.
Everyone knows you should not be holding a cell phone while driving but we see it happen all the time! This is simply putting yourself and others at risk of an accident. If 
texting while driving
, your eyes leave the road for five seconds....that's a long time when a child could walk in front of your vehicle, or traffic could totally stop. 
What can you do?
 Put the phone down or pull completely off the road to talk/text. No phone call is worth the risk!
School zone complaints are another big issue for CVPD. Chula Vista has 45 elementary and 32 middle and high schools. There is no way to efficiently get the large volume of traffic into the confined areas surrounding our schools without some inconvenience. Speeding in school zones, driving against oncoming traffic, dropping children off in the middle of the street, and taking kids across the street not using a crosswalk are some of the more obvious violations. These decisions can have fatal consequences. A child doesn't stand a chance against a 2,000 pound vehicle! What can you do? CVPD suggests parents schedule enough time to get the kids to school safely. Also, remember that it is a State law to stop for any school bus with flashing stop sign and red lights. If you cannot remember, CVPD School Resource Officers and Traffic Enforcement Officers conduct random traffic enforcement operations on a daily basis.
With grants from the California Office of Traffic Safety, through the National Highway Traffic Safety Administration, CVPD routinely conducts special enforcement efforts. While regular duty officers continue to patrol the city, other officers conduct the enforcement. That way, our City stays safely patrolled while the enforcement officers can concentrate on drunk or impaired drivers, speeding drivers, driver license violations and valid registration. What can you do? Take Uber or Lyft, call a cab or a friend, and make sure your driver and vehicle licenses are valid.

Fighting Fires Safely
Replacing outdated equipment is essential to any job but especially to first responders. Recently, the Chula Vista Fire Department (CVFD) purchased new self-contained breathing apparatus (SCBA) equipment after the existing equipment reached its end of service life. SCBA are the single most important personal protective equipment used by Firefighters and serve as the front line breathing apparatus and respiratory protection in dangerous situations.
CVFD extensively researched options to replace the 16-year-old SCBAs once it was determined the current ones no longer met National Fire Protection Association standards. The evaluation process included input from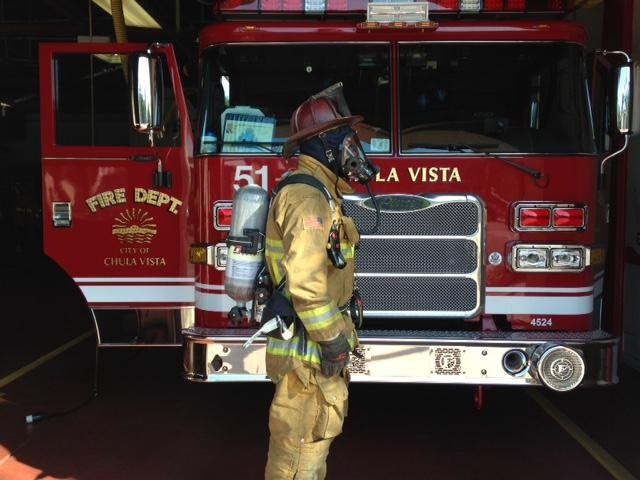 an internal committee as well as other Fire personnel from Firefighters to Battalion Chiefs. Four components were identified as being most important: communications (being able to effectively hear/talk through the mask), ease of use of the SCBA, air delivery, and comfort.
Since the total replacement cost was $1 million, sample products were tested thoroughly before purchasing. In addition, the Fire Department applied for and received a FEMA grant for $700,000. To offset the additional $300,000 needed, the City's Purchasing and Accounts Payable division of the Finance Department, was able to secure a 38% discount.
These newly acquired SCBA are contained on every Fire vehicle with masks personally fitted to each individual for a proper seal and carried by them with their other personal equipment. Used in confined spaces, natural gas leaks, as well as fires and other hazardous conditions, the cylinders are designed to have 45 minutes of breathable air. When a SCBA has 33% of remaining air, a low air alarm goes off indicating that it is time for the responder to exit.
Each SCBA cylinder with a backpack weighs 30 pounds; this is in addition to the other equipment Firefighters must wear! Once all Fire personnel have been completely trained, donning the new SCBA takes less than one minute. We are glad CVFD has these new devices to keep our Firefighters safe while they assist us in an emergency.

Another Tool To Keep You Safe
Your 90 year-old mother went outside to check the mail and doesn't return. After frantically searching the neighborhood, knocking on doors, and looking everywhere, you call the Chula Vista Police Department (CVPD) to report her missing. Officers arrive getting her description and other pertinent information from you as they begin their search in the densely wooded neighborhood. You hear a sound like a helicopter and look up to see a drone flying overhead. Suddenly you hear a Police Officer say, "We've located her hiding under some bushes." As CVPD rushes to the location, you are thankful that mom is OK and even more thankful that the City has this latest high tech tool to help find her.
Searching for missing elderly persons and children is one example of the City's planned use of an Unmanned Aerial System (UAS), commonly called a drone. CVPD and the Chula Vista Fire Department (CVFD) are currently being trained to use these devices in critical incidents such as missing persons, crime scenes, traffic collisions, wildfires, or special events. Equipped with a video camera, the small battery operated device is controlled by a "pilot" on the ground using a handheld controller from a safe location.
Police and Fire personnel who will fly the drone for our City are tested by the Federal Aviation Administration (FAA) after studying about weather conditions, air traffic control procedures, and safety and maintenance of the drone. CVPD Drone Coordinator, Lt. Chris Kelley, said, "These drones will help make things safer for the community and enhance our response, as well as being a cost saving measure."
CVPD is currently in the final stages of research for a potential first deployment of drone use this July. A 
draft operation policy manual
 for CVPD and CVFD has been written on drone use after researching other law enforcement agencies that have the program. Drones will be deployed in accordance with the established
policy and will not be used for random surveillance activities. Like any other public safety tool, the use of drones by government agencies is subject to federal and state laws as well as the agency's policies. In respect of privacy and civil liberties, CVPD will be required to obtain consent or search warrants to use drones where there is a reasonable expectation of privacy.
To ensure a transparent process, CVPD has discussed the use of drones at a public forum, at Coffee with a Cop events with Lt. Kelley, and in meetings with the ACLU. In addition, the CVPD website has a 
Frequently Asked Questions
 area that addresses drones. Public input on drone use is welcomed; please contact us via
All drone flights will be logged in a flight log to document the time, date, location and purpose of the flight. Thank you CVPD and CVFD for your forward thinking on this "eye in the sky.

Did you know...
...
National Library Week
 is recognized 
April 9-15
. Chula Vista is home to 
three great libraries
: Civic Center Branch at 365 F Street, South Branch at 389 Orange Avenue, and Otay Ranch Branch located in the Otay Ranch Town Center near the food court. Stop by and see all that they have to offer! Not only is there a large variety of books at each location, they also have e-books, films, events, free computer access and the Chula Vista Heritage Museum at the Civic Center Branch.
...congratulations are in order to the City's 
Clean Business Award winners
: ARYA Cleaners, Cool Down Coffee, Eastlake Storage, Performance Bicycles, and St. Rose of Lima Church and School. These establishments have voluntarily worked to improve their energy efficiency, conserve water, and reduce waste. 
Learn how
 your business can be an environmental leader too.
...you can help the Chula Vista Animal Care Facility (ACF) by
 donating new or gently worn shoes
. No, we don't mean shoes worn by horses, but those worn by you! The program benefits people in developing countries by creating a job of selling shoes, which in turn, provides sustainability for them while keeping millions of shoes out of landfills! Our ACF receives funding from the 
shoe donations
 which helps us as well. Drop off your shoes to the ACF, 130 Beyer Way, Tuesday-
Saturday
 from 
10 a.m. to 4 p.m.
 or at the City's Conservation office, located at 276 Fourth Avenue, Building C. They are open Monday-Thursday from 
9 am
. to 
5 p.m.
 and 
Friday
 from 
9 a.m. to noon
. The deadline for donations is May 1.
...Chula Vista's Aquatics will hold an 
April Pool's Day
 event on 
Saturday, April 15
, at Loma Verde Aquatic Center, 1420 Loma Lane. The event, held from 
12 to 3 p.m.
, provides free swim lessons to children ages six months to 16 years old. Other activities include demonstrations of proper lifejacket use, water safety themed story time, and a free BBQ compliments of the Chula Vista Firefighters Foundation. Tragically, drowning remains the leading cause of unintended, injury related death for children ages 1-4, and the second leading cause of accidental death for children under 14. Research shows that participation in formal swimming lessons can reduce the risk of drowning among children by 88%. 
Register
 for the free lessons soon; class times are 12, 12:35, 
1:10
, 
1:45
 and 
2:20 p.m.
 For more details, check the 
Aquatics webpage
, or call (619) 409-1987.
...applications are now being accepted for the 
2017 Performing and Visual Arts Grant
. The PVAG funds projects in a variety of artistic fields including dance, design arts, media arts, music, photography, theater, traditional/folk arts and visual arts, and interdisciplinary expressions with the purpose of creating a robust and sustainable cultural arts scene in Chula Vista. Deadline to 
apply online
 is 
4 p.m.
 on 
Thursday, April 27
.
...Ruth Sax, Holocaust survivor, will accompany her author daughter, Sandra Scheller, at the Civic Center Library, 365 F Street, on 
Thursday, April 27
, at 
5 p.m.
 for a presentation on the author's book. Scheller wrote "
Try to Remember-Never Forget
," which describes her now 80-year-old mothers' terrifying experiences in Nazi concentration camps including Auschwitz. The free event is offered by the City's Cultural Arts program.
...Chula Vista's 
sales tax rate changes
 to 8.25% beginning 
April 1
 due to Measure P which was passed by 68% of voters in the November 2016 election. Recently, the newly formed Citizens Oversight Committee (COC) had its initial meeting to review the Measure P Infrastructure Expenditure Plan and other details of the ten-year sales tax measure. The Committee will review and report on all Measure P expenditure plans, financial reports, and audits for compliance with Measure P. Find more information on Measure P and the COC on the 
website
.
...new eating establishments in town include 
Firehouse Subs
 at 510 Broadway just west of H Street. Try
 the yummy sandwiches or salads and enjoy the cool décor. Craving good authentic Italian food? Head to 
Italgo Pasta Bar
, 635 Broadway, just south of I Street. Here you will find delicious homemade pastas, pizzas and salads in addition to a large wine selection.  Buono!
...Chula Vista was ranked #11 in WalletHub's 2017 
Happiest Places to Live
. With excellent schools, outdoor amenities, arts and culture, entertainment and more, we definitely agree with the ranking!
...on 
Friday, April 28
, the City will celebrate 
National Arbor Day
 by planting new trees. From 
9 a.m. to 12 p.m.
, volunteers of all ages are encouraged to help the City with our environmental commitment by being a Tree City USA. New trees will be planted in the Orange Avenue neighborhood between Kim Place and Hilltop Drive. 
Email
 Sam Oludunfe by April 27 to volunteer. Please bring your own work gloves; children are welcome to participate.
...if you or your family members are ready to spring into spring with a new class or activity, the 
Chula Vista Recreation Department
 is here to help! Some featured April offerings include: Heritage Recreation Center is hosting new therapeutic classes designed for disabled adults 18 and up; Otay Recreation Center has the Otay Lake Adventure, Dog Training, Youth Archery, Tennis and Zumba classes; Norman Park Senior Center offers Chair Volleyball and English Conversation classes on an on-going basis; and Parkway Community Center has Gymnastics and Tumbling as well as league Basketball and Volleyball. Check out these and many more of 
Recreation's fun events and programs
!
...the Otay Ranch Branch Library is hosting 
S.T.E.A.M. events
 this month that focus on the environment in
 honor of Earth Month. Each 
Saturday
 in April, kids ages 6 and up are invited to an 
Environment Composting Workshop
 at 
11:15 a.m.
 On 
Thursday, April 6
, Chula Vista residents can learn how to compost at 
5 p.m.
, and will receive a discount to purchase a compost bin. 
Invo8! Science Night
 is set for 
Thursday, April 27
, at 
5 p.m.
 for children ages 8 and up, where they will experience science activities while learning about the environment. Call (619) 397-5740 for details on any of the above events.
...through animal encounters, games, arts & crafts, outdoor exploration, role play and career exploration, the world of our amazing native wildlife is featured at the
 Living Coast DiscoveryCenter
. 
Summer Wildlife Day
 camps are a fun and interactive way to educate kids about wildlife, conservation, and science; register now . ThroughLabor Day, the Center will feature 
Back to Nature
, an interactive exhibit featuring new animals such as parrots, mice, iguanas, falcons, frogs, and more! Check out the new Native Pollinator Garden, attracting butterflies, hummingbirds, and bees while learning about the role of native pollinators in our everyday lives. 
...very fresh fish and a large meat and fish case containing a huge variety can be found at the newly opened 
Island Pacific Market
 at 865 East H Street (former Fresh and Easy location). In addition to the well-stocked grocery store featuring Filipino foods, there is Phil House, a cafeteria style restaurant inside the market featuring cooked Filipino favorites. It's open every day from 
8 a.m. to 9 p.m.
With a grand opening set for Saturday, April 1, the Asian American Supermarket, 99 Ranch Market, is open at 505 Telegraph Canyon Road in the former Von's location. Containing fresh vegetables and seasonal fruits, there is also a seafood department, meat department, and a full in-house hot deli and bakery. Stop by and check them out!
...four million 
disposable 1 lb. propane 
cylinders are sold each year in California alone. Did you know 80% of the cost of disposables is the package? Only 20% of the cost is the gas inside resulting in consumers spending around $4+ per disposable cylinder just to use about $0.80 of propane gas. Plus these cylinders cannot be thrown out in your trash or recycling; they must be disposed of at a Household Hazardous Waste facility. Want an easy solution? Use refillable cylinders - they save you money after just five refills and can be refilled hundreds of times for up to 10 years. Three Chula Vista locations are refillable cylinder locations: South Coast RV, located at 801 Broadway, Suite A, U-Haul of Chula Vista, 99 Fourth Avenue, and West Marine Chula Vista at 630 Bay Blvd. Check the website 
for more details 
and other San Diego County locations.
...you can help our city to be nominated for the 
Meet Me at the Park initiative
, which kicks off in April during Earth Month. If we win, Rienstra Park will receive a $20K grant for improvements. Meet Me at the Park was created by The National Recreation and Park Association (NRPA) and The Walt Disney Company, including Disney Citizenship, Disney|ABC Television Group and ESPN, to help revitalize parks across the country. 
Nominate the City of Chula Vista
 beginning 
April 1
!

Events
Team USA vs. Canada Rugby
Bring the kids and watch Team USA play Canada on 
Saturday, April 1
, at 
3 p.m.
 The USA Women's National Team (Eagles) take on Canada in this Women's Rugby World Cup warm-up match. Cheer the Eagles to victory and send them off to the Women's Rugby World Cup in style! 
Tickets
 are $10 if purchased in advance, or $15 at the gate day of. There is limited bleacher seating and spectators are encouraged to bring blankets or chairs for festival style seating. Food and beverages will be available for purchase at the venue.
Cultural Potluck 
Do you make a great enchilada? Or maybe home-made chili is your specialty? Participants are invited to put their cooking skills to the test and bring your favorite cultural dish to share at this popular potluck! Scheduled for
Wednesday, April 5
, from 
12 to 2 p.m.
 at the Norman Park Senior Center, 270 F Street, there is no fee to participate. Call (619) 409-1930 for more information.
Development Forum
On 
Thursday, April 6
, a development forum will be held with leading developers in Chula Vista and City Economic Development staff from 
9 a.m. to noon
. The free event will be held in the City Council Chambers located at 276 Fourth Avenue but 
registration
 is required. Hear presentations on the Chula Vista Bayfront, western Chula Vista, Otay Ranch Village 2, HomeFed and Millenia.
Egg Decorating Contest
Children ages 5-12 are invited to participate in a free Spring Egg Decorating contest on 
Thursday, April 6
, at the Otay Recreation Center, 3554 Main Street, from 3 to 
4 p.m.
 Contest categories include funniest, most creative and most "egg-straordinary;" all materials will be supplied. Call (619) 409-1999.
Book Sale Time
Visit the Civic Center Branch Library at 365 F Street for some great deals on some great books! 
On Friday
 and 
Saturday, April 7 and 8
, from 
10 a.m. to 5 p.m.
 and 
Sunday, April 9
, from 
1 to 4 p.m.
, you can find books, DVDs and more at bargain prices.
Peter and the Wolf
A free family arts program entitled, Peter and the Wolf, will be presented at the Civic Center Library, 365 F Street, on 
Saturday, April 8
. Beginning at 
2 p.m.
, enjoy a collaborative performance with a dancer, theatre artist, bassist, and singer/songwriter as they bring the story to life. In addition, each family will receive a free copy of the book, 
Peter and the Wolf
, by Sergei Prokofiev (while supplies last.)
Extravaganza Egg Hunt
Hop on down to the Otay Recreation Center, 3554 Main Street, on 
Tuesday, April 11
, from 2 to 
3 p.m.
 for a fun egg hunt! Offered to children ages 5-
12
, this is a free event but registration is required by calling (619) 409-
 1999.Those who find five eggs or more receive a treat bag. Space is limited so sign up today.
Tots Spring Egg Hunt
Bring the little ones ages 2-5 to Montevalle Community Park, 840 Duncan Ranch Road, on 
Friday, April 14
. From 
10 a.m.
 to 12 p.m., kids will have an "Egg"cellent" time with arts and crafts, coloring eggs and an egg hunt. Fee is $5 for Chula Vista residents and $7 for non-residents; 
register
 today!
Test Help for Teens
Each month the Otay Ranch Branch Library offers a Teen Academy to inform teens about available resources at the library that can help with high school assignments, prepare for SAT and ACT tests and more. Visit on 
Monday, April 17
, from 
4 to 5 p.m.
 for this worthwhile and free program.
Ready to Read
Since it is Earth Month, the South Chula Vista Branch Library, located at 389 Orange Avenue, is participating with two free programs. On 
Tuesday, April 18
, from 
5 to 6 p.m.
, children can listen to a reading of Dr. Seuss' 
The Lorax
. Ready to Read story time topic is Earth Day on 
Wednesday, April 19
, at 
11:15 a.m.
Earth Day at the Library
As part of the children's S.T.E.A.M. program, there will be an Earth Day Water Filtration Challenge on 
Wednesday, April 19
. The event will take place at the Civic Center Library, 365 F Street, from 
4:30 to 6 p.m.
Call (619) 691-5069 for more details.
Princess at the Prom
The South Chula Vista Branch Library will be transformed into an elegant dressing room area for the annual Princess Project Prom Dress Selection event on 
Saturday, April 22
. Those with scheduled appointments will chose their prom dress and accessories from 
10 a.m. to 2 p.m.
 and walk-ins from 
2 to 4 p.m.
 Appointments can be 
scheduled online
. It's not too late for you to donate items to this great cause too! Drop off your dress, shoes or jewelry to any library branch during regular hours through April 20.
Day of the Child 
Fun for the entire family awaits you at the popular and free Day of the Child event on 
Saturday, April 22
. From 
11 a.m. to 3 p.m.
 in Memorial Park, located at 373 Park Way, enjoy live entertainment, games and activities for children, health screenings, prizes and much more!  
Camarena Color Splash
Come join the fun at this 5K event on 
Saturday, April 22
, which begins and ends at Camarena Elementary School, 1650 Exploration Falls Drive. Starting at 
8 a.m.
, the run takes place on surrounding streets and benefits the Camarena Elementary PTA. The morning will be filled with fitness, healthy snacks, family, friends and lots of colorful fun! More than 600 participated last year, so 
register early
!
Maritime Week: Festival, Art and Party!
To cap off the celebration of Maritime Week, several free events are planned at the Chula Vista Marina (off J Street) and Marina Park on
Saturday, April 22

, and 

Sunday, April 23
. From 
10 a.m. to 4 p.m.
 both days, celebrate the history and culture of the City's maritime industry with live music, roving entertainment, a Tall Ship and other boats on display, and waterfront tours. Visit artists' booths at the Art on the Waterfront, a community arts and crafts fair showcasing the talent of local artists. Saturday also showcases Islander Night celebrating the Pacific Islander culture with music, cultural dancers, food vendors and art displays. Held in Bayfront Park, this free event runs from 
4 to 9 p.m.
Rootin' Tootin' Chili Cookoff
Get ready for the Rootin' Tootin' Chili Cookoff scheduled for 
Sunday, April 23
, from 
10 a.m. to 3 p.m.
 in the Bonita Village Shopping Center, 4180 Bonita Road. The free event, sponsored by the Bonita Kiwanis Club, features a stage with live entertainment in addition to chili tastings. The Rotary Club also will feature a "How to Build Your Car Clinic" in anticipation of the Orange Crate Derby in August. There is a fee of $10 to sample chili, and a fee of $10 to participate in the Kids Fun Zone. To park at the Kaiser Permanente Parking lot, use the gate on Willow Street.
Kids in the Kitchen
Is your child the next famous Junior Chef?  Here's an opportunity for them to learn the trade at this hands-on 
cooking class
 set for 
Friday, April 28
. Children ages 8-13 will chop, measure, mix and stir from 
3:30 to 5:30 p.m.
 at Parkway Community Center, 373 Park Way. The fee is $10 for Chula Vista residents and $13 for non-residents to learn the love of cooking!
Disposal Event and National Prescription Take-Back Day
Now that you've done some spring cleaning, what do you do with all of that old, unusable stuff? Chula Vista residents can take antifreeze, batteries, oil, paint, electronics, fluorescent lights/tubes, and expired/unused prescription medicine to a free disposal event on 
Saturday, April 29
. Between 
10 a.m. and 2 p.m.
, drop off your items - no questions asked - at Camarena Elementary School, 1650 Exploration Falls Drive. Note: the following are NOT accepted: gasoline, diesel, gas tanks, pesticides, fertilizers, pool chemicals, thinners, degreasers, and
sharps. For more information, call (619) 691-5122.
Food and Wine Celebration
Join the Chula Vista Public Library Foundation as they host the annual Bon Appétit food and wine event on 
Saturday, April 29
, at the Otay Ranch Town Center Food Pavilion. From 
5 to 9 p.m.
, enjoy a wide selection of wines offered by The Wineries on Highway 94 and craft beer by Chula Vista's Bay Bridge Brewery. Nibble on tasty treats by local restaurants and other food vendors. Check out the vast array of silent and live auction items and dance the night away with KSDS radio deejay John Phillips. Tickets for the grand prize drawing of a $1,000 gift card are available for $5 each in advance or at the event; winner need not be present. Purchase your tickets to this festive benefit at any City library for $45 each or at the door. Must be 21 or older; no children are allowed. All proceeds benefit the Chula Vista Public Library Foundation.
Ride for Autism
On 
Saturday, April 29
, the Sweetwater Union High School District (SUHSD) Special Services Department will host the Third Annual Ride for Autism. The event features the motorcycle community riding through the South Bay and visiting several SUHSD school sites while raising money for students on the autism spectrum. All event proceeds will support the SUHSD Special Services Department and will be used to create or purchase additional support items for the classroom. At the end of the event, riders and friends will gather for an afternoon of great food, music and raffle prizes. 
Tickets
 are $35 for a single rider and $40 for a rider with a passenger. All bikes are welcome.
CiclaVista
Join us in downtown Chula Vista on 
Sunday, April 30
, from 
11 a.m. to 3 p.m.
 for a fun day of live music, shopping, food and activities for all ages. 
CiclaVista
, an open streets event (open to all but vehicles!), will be held on Third Avenue between E Street and H Street and allows participants to ride a bike, roller skate, skateboard or simply stroll along the street.
Looking Ahead:
---
Animal Care


Environment


    409-1975 

    397-6000

    Waste, Recycling and

_________________

 

Public Works


Graffiti 

Hot

line: 691-5198

Graffiti

 i

n progress

: 9-1-1

Parks

Service Requests

    397-6000 


 

Recreation

Heritage Center: 

421-7032

Loma Verde 

    Center: 409-1939

    Pool:  409-1987

Montevalle Center:

    691-5269

Norman Park 

    Center: 409-1930

Parkway 

    Center: 409-1980

    Pool: 409-1985

    Gym: 409-1990

Salt Creek Center:  

    585-5739

Veterans Center: 

691-5260

Development Services

Land Development:

 691-5024

Building:  691-5272

Planning:  691-5101

Code Enforcement: 

691-5280

Housing: 691-5047

________________________

  

Economic Development

    Relations 

& Special Events: 

    691-5296

Mayor & Council

691-5044

Fire

Main: 691-5055

  

Police

    691-5151

__________________   




Human Resources

Main: 691-5096

_______________




_______________



City of Chula Vista

,

 Office of Communications

,

 276 Fourth Avenue

,

 Chula Vista

,

 CA 91910